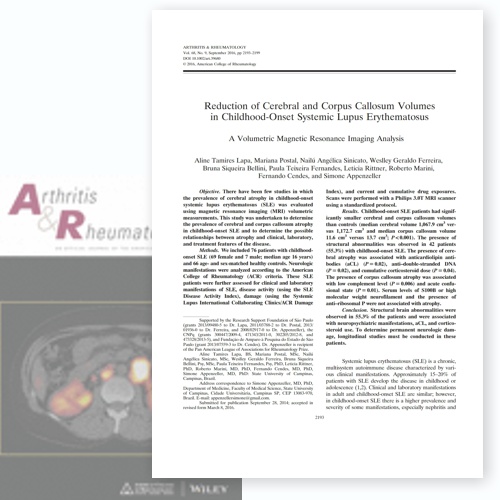 Reduction of Cerebral and Corpus Callosum Volumes in Childhood-Onset Systemic Lupus Erythematosus
Systemic Lupus Erythematosus, Volume 68, Issue 9, September 2016. Pages 2193-2199
There have been few studies in which the prevalence of cerebral atrophy in childhood-onset systemic lupus erythematosus (SLE) was evaluated using magnetic resonance imaging (MRI) volumetric measurements. This study was undertaken to determine the prevalence of cerebral and corpus callosum atrophy in childhood-onset SLE and to determine the possible relationships between atrophy and clinical, laboratory, and treatment features of the disease.
Link: http://onlinelibrary.wiley.com/doi/10.1002/art.39680/abstract;jsessionid…
Publication Info
Category:

BrainCorpus callosumMRIWhite matter

Authors:

Lapa, A., Postal, M., Sinicato, N., Ferreira, W., Bellini, B., Fernandes, P., Rittner, L., Marini, R., Cendes, F. and Appenzeller, S. Reduction of Cerebral and Corpus Callosum Volumes in Childhood-Onset Systemic Lupus Erythematosus: A Volumetric Magnetic Resonance Imaging Analysis, Arthritis & Rheumatology, 2016.